Greetings You Primal Monsters!
This weekend we're happy to announce a new feature on the Faction Server for all players, Faction Warp Signs!
As the name suggests, this will allow
Faction Leaders
to place signs down that when
Right Clicked
teleports players to that faction warp.
The leaders can choose if the sign will allow anyone to use it, only faction members or faction members and their allies.
Sign Creation
Creating a warp sign is super simple, we do most of the work for you!
Place a sign down on the ground or attached to a block and set the layout as.
[Faction Warp]
<blank>
Name Of The Warp
Access Type (ALL, FAC, ALLIES)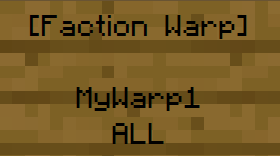 Once you exit the sign, the server will fill in the blanks and active it!
If you would like to see a live demo/teaser of this feature you can view the video below!
Thank you all for your continued support!